The Stuart Chiropractor For Your Family!
Free Consultation, Examination and X-Rays (if necessary).
Welcome to East Ocean Chiropractic Centre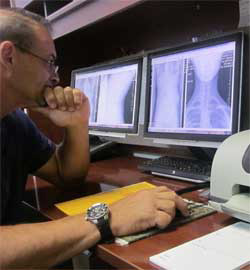 Here at East Ocean Chiropractic Centre in Stuart, FL, we are dedicated to giving you the level of care you are looking for. You can expect competent safe and gentle chiropractic treatment by Dr. James Mastellone. Naturally, chiropractors help traditional neck and back problems, but chiropractic has also produced wonderful results with a variety of problems you wouldn't normally associate with the spine.
With 26 years of experience Dr. Mastellone has successfully treated thousands of patients with a variety of symptoms ranging from Headaches, Neck Pain, Back Pain, Arm and Leg pain, Sciatica, Shoulder/Shoulder Blade Pain, Pinched Nerve, Disc Problems, Pain from Arthritis in the Neck and Lower Back. With the use of Spinal Decompression, access to MRI diagnostics and working closely with orthopedic and neurological doctors (if necessary), we are able to determine the exact cause of your pain.
Utilizing a variety treatments and techniques all current and up-to-date we will find the treatment that is right for you. If we feel we can help you, we will tell you. If we feel we can't help you, we will tell you that to. We know that every budget is different and regardless of insurance coverage or however long it takes we are willing to work with you financially. No patient is turned away.
Chiropractic is safe, natural, and effective!
Find out why other Stuart-area residents are choosing the chiropractor committed to patient education and understanding. In addition, be sure to take a look at our New Patient Special Offer. Call our Stuart chiropractic office today to learn more about chiropractic care!
Dr. James Mastellone | Stuart Chiropractor | East Ocean Chiropractic Centre